THE WEB MARKETING ASSOCIATION PRESENTS THIS WEBAWARD
Best Computer: Hardware Website
2015
Submitted by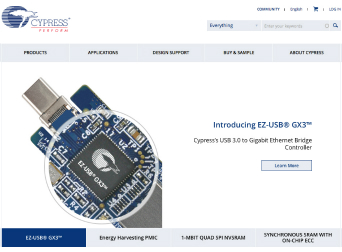 About Cypress Semiconductor
Cypress Semiconductor Corp. is based in San Jose, California, the company with 7,100 employees worldwide serving more than 30,000 customers.
Cypress delivers high-performance, high-quality solutions at the heart of today's most advanced embedded systems, from automotive, industrial and networking platforms to highly interactive consumer and mobile devices.
About the Web Marketing Associationís WebAwards
Since 1997, the Web Marketing Association's annual WebAward Competition has been setting the standard of excellence for Website development. Independent expert judges from around the world review sites in 86 industries. Only the best are recognized with a WebAward. The WebAward Competition is the premier award recognition program for Website developers and the online marketing community.