Ladies and Gentlemen — Announcing a New Web Site for Ladies and Gentlemen
In November 2001, Chestnut Hill College, a liberal arts institution in Philadelphia, Pa., made the historic announcement that it would welcome its first male undergraduate students in fall 2003. The College had been a single-sex school for 79 years, and was in need of a brand overhaul to attract an entirely new student population. Chestnut Hill College partnered with 160over90 (www.160over90.com), a full-service marketing communications agency, to launch a full-scale rebranding and marketing campaign.
As part of the campaign, the Agency was tasked with developing a Web component for the admissions office. Chestnut Hill College had an existing institution-wide Web site, however, as with many college Web sites, it was difficult to navigate through the vast amounts of information to find the admissions information. University Web sites serve as a resource center for a number of audiences that include existing students, faculty, alumni, and press as well as the prospective student that college admissions offices are trying to reach. Chestnut Hill College needed a marketing tool for its admissions office that would sell the college experience to prospective students. Rather than add onto Chestnut Hill College's existing Web site, 160over90 created a stand-alone microsite that neatly packaged the pertinent admissions information. A splash page was built so that visitors to www.chc.edu were given the option to enter the admissions microsite or the institution-wide Web site.
<![if !vml]>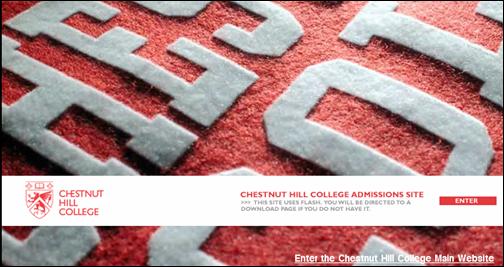 <![endif]>
The word microsite may imply that a smaller, less complicated site was developed. However, 160over90 developed a complex, Flash-driven site that streamlined a large amount of information. To properly communicate with prospective students, the content of the site needed to be dynamic. With the understanding that admissions counselors, not Web developers, would be responsible for inputting the data, a back-end content management system (CMS) was developed. The CMS was Web-based, which allowed administrators to log on from anywhere at anytime to update information, such as open house dates and application deadlines. Since ease of use was crucial, the CMS was developed so that a user with only proficiency in Microsoft™ Word would be able to edit the site.
<![if !vml]>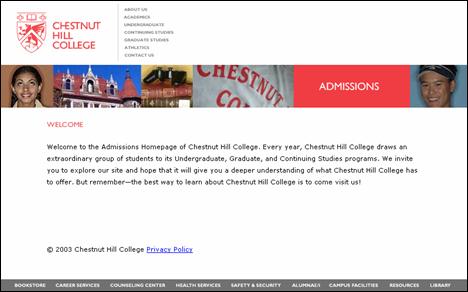 <![endif]>
In addition to programming challenges, 160over90 also faced design challenges. At the time the site was being developed, Chestnut Hill College was still a single-sex institution. The site needed to reflect the future student landscape of Chestnut Hill College — an undergraduate student population that included males. With a limited budget, the agency created a photographic brand image library that depicted Chestnut Hill College as confident, articulate and enthused, yet with a sense of humor. The microsite focused on the reality of the college experience. Using independent elements such as a pizza box, a mud-covered male mountain biker and an Xbox controller, the Agency combined these individual images into larger stories and layouts. The imagery, and a refreshed color palette, provided the century old college with a modern feel to accentuate its new image and appeal to males.
<![if !vml]>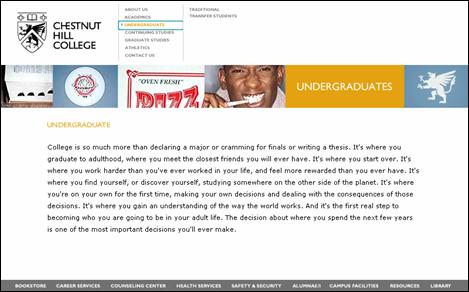 <![endif]>
The admissions microsite was not only tasked with marketing to male and female high school juniors and seniors and their parents, it also had to support the admissions efforts for Chestnut Hill College's Graduate and ACCELERATED (Continuing Studies) Degree Programs. Thus, the target audience for the site ranged from a 17-year-old student-athlete, to a 65-year-old-woman looking to receive her master's degree in holistic spirituality. To ensure the Graduate and ACCELERATED sections of the microsite resonated with adults, 160over90 once again used photographic brand images of both people and iconic representation of the Graduate and ACCELERATED programs' offerings to connect with its target audience.
With all clients, 160over90 works to create an identifiable and cohesive brand. The aforementioned image libraries tied together the package of recruitment materials, which included the viewbook, e-card, direct mail postcards, academics brochure and search piece, in addition to the microsite. The tone of voice also remained consistent throughout all of the copywriting. Chestnut Hill College was looking for intelligent and sophisticated candidates, whether it was an 18-year-old male applying to the School of Undergraduate Studies or a 50-year-old mother looking to start a second career. All recruitment materials, including the admissions microsite, possessed a clever, mature voice to speak to all of these audiences.
The microsite went live in October 2002 and the School of Undergraduate Studies experienced a 67 percent increase in applications. In fall 2003, Chestnut Hill College welcomed its largest incoming class in recent years, of which 34 percent were males. Enrollment in both the Graduate and ACCELERATED Degree Programs also increased. Chestnut Hill College and 160over90 garnered numerous awards for the microsite, including a 2003 Webawards and a 2003 Service Industry Advertising Award.
On February 1, 2004, Chestnut Hill College's admissions microsite was taken down and replaced by a new institution-wide Web site. The success of the microsite drove the relaunch of the College's entire site. With the lessons learned from the design and development of the microsite, 160over90 completely overhauled the look of the site and reconstructed the information architecture to streamline the content. Today, Chestnut Hill College's Web site offers a wealth of information in an aesthetically pleasing and easy to navigate medium.