One paycheck at a time
One Paycheck at a Time Inc., providing easy, no-nonsense debt-elimination strategies, received the prestigious award of Best Financial Services Interactive Application in the 2005 Internet Advertising Competition (IAC) Awards sponsored by the Web Marketing Association. The website was voted the best in its industry category for the interactive medium.
The One Paycheck at a Time website incorporates eTools to provide subscribers with an online, interactive guide to targeting and paying off debt on a paycheck by paycheck basis. This strategy differs from most other debt reducing programs in the marketplace that tend to focus on the traditional monthly bill payment process. The website eTools enable users to easily follow the process and see their progress through a customized graphic interface. Once the customer has worked the program to pull themselves out of debt, they may choose to further develop their money management skills by utilizing the savings module also included in the eTools application.
<![if !vml]>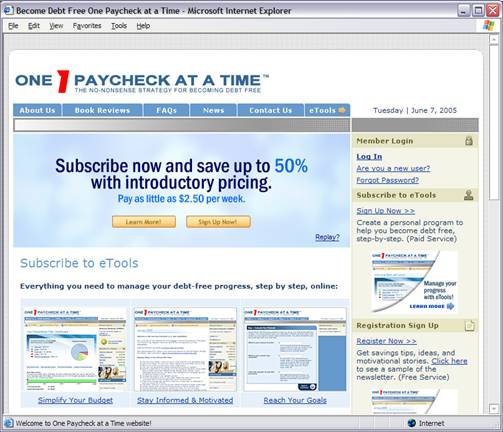 <![endif]>
The Challenge
| | |
| --- | --- |
| <![if !vml]><![endif]> | The book, Becoming Debt Free One Paycheck at a Time (ISBN: 1591133327) was first published in 2003 with updates in 2004 and 2005. Kimberly A. Griffiths, the author and creator of One Paycheck at a Time Inc., began receiving emails from readers of the book with questions of how to automate the program. Many of the readers were taking the concepts found in the book and creating Excel programs to automate the budgeting process. They were asking for assistance to ensure that they were following the program properly. Knowing that she could not support these spreadsheets, Ms. Griffiths sought the help of Clearcubed Interactive to create an online application. |
She had some very specific ideas in mind about how the online application should work. In addition to meeting the objective of creating interactive tools to make it easy to setup and manage a personalized budget she wanted customers to have the flexibility to:
· Create a spending plan specific to their income and expenses while automating all the calculations,
· Develop a program for a one- or two-income household, regardless of the timing of the pay periods,
· Ensure complete privacy and security of each customer's information with 128-bit encryption technology,
· Manage spending choices in just a few clicks,
· Access and print out personal reports anytime of day or night to follow each pay period, and
· Develop a sensible savings plan once the customer is out of immediate danger of debt.
The best way for Clearcubed Interactive's designer, Mo Usman, and programmer, Jeff Johns, to understand the task at hand was to read the book. Translating the concepts from the book into an online budgeting application would prove to be challenging. "Everyone's financial situation is unique. It would be impossible to create a one-size-fits-all-solution since no two individuals carry the same credit card debt with the same loan products," says Jeff Johns, programmer of Clearcubed Interactive. That said, they ventured to create an online application that would prove to have wide appeal.
The Solution
The One Paycheck at a Time online budgeting program was named eTools. The eTools may be used independently of the book, although using them together will certainly accelerate the mastery of the debt reduction principles.
It is clear how the One Paycheck at a Time concept of debt reduction based on pay period bill paying is different from other debt reduction programs. The eTools online is different from other money management applications because:
There is no software to install as it is a web-based application,

The wizard shows you how to design your debt reduction plan step-by-step,

The eTools program recommends a sensible approach to become debt free,

It tailors a personalized debt reduction plan based on a person's income and expenses, and

It is easy to use!
Most money management software applications lead you through a monthly budget as this typically is the timetable on which our expenses are based. The general public has been well trained to pay bills monthly even though most people are paid on a different schedule. More times than not this approach to budgeting creates a cash-flow deficit.
The One Paycheck at Time eTools subscription is a month-to-month service allowing customers to access and personalize their debt reduction plan and utilize tools to shrink their debt. The subscription automatically renews each month unless the customer chooses to cancel the service.
The book and eTools describe and calculate a method to managing money, One Paycheck at a Time. This is a fundamental premise is based on the tried-and-true envelope system. The foundation of the envelope system is to dedicate one envelope per expense and set aside money in each envelope until that particular bill is paid. The envelope system becomes a filing system for managing your money.

The envelope system worked great when society operated on a cash basis. Today, with so many payments being completed electronically, it can be difficult to identify where all of your money is going, and when. The envelope system is a bit obsolete in this regard. However, it was critical to ensure that the eTools would work whether a customer was banking online or still banking with paper checks. This is why the One Paycheck at a Time book and eTools were created. With eTools, it is easy to closely manage money and eliminate overspending. Customers will soon manage their money rather than managing only their debt.
The User Experience
The One Paycheck at a Time eTools help customers design and implement a plan to become debt free in the privacy, comfort, and convenience of their own home or office through a web-based application. Customers may access their information from any computer in the world as long as it is connected to the Internet. The program not only provides a program to become debt free, but helps to identify where an individual may be overspending in the process, and beyond. Once the customer inputs their income and expenses, a series of calculations are performed for each of their paychecks. The program then provides a plan detailing cash available for spending for the week, bills to be paid, and suggests ways to accelerate the process of getting out of debt. No matter how much or how little money a customer earns, the program is tailored to their unique financial situation.
<![if !vml]><![endif]>

Upon subscribing to the eTools program, the customer will be presented with a six step interactive tool, which is called the One Paycheck at a Time Setup Wizard. The subscriber will be asked a series of questions to set up their personal debt reduction plan. The topics included in the six steps are:

Loans,

Fixed Expenses,

Savings, and

Cash.

No special skills are required to answer these questions, just a thorough knowledge of their income and expenses.

<![if !vml]><![endif]>

Upon completing the One Paycheck at a Time Setup Wizard, the customer's personalized plan has been calculated. Each time the customer logs in at www.OnePaycheckatatime.com, they will land on the Personalized Plan Dashboard page. Just like the dashboard of a car, this page summarizes at-a-glance the activities that they should perform each pay period.

A variety of interactive gauges are in place for the customer to monitor their progress, including:

Paycheck Breakdown,

Debt and Savings Barometer,

Paycheck Manager,

Pay Your Bills,

Traffic Light Status, and

Present and Historical Logs.
With introductory pricing, a new customer has a choice of signing up for a monthly or quarterly service.
· The monthly charge is $12.50 for the first month, and $16.95 for each subsequent month.
· The three-month subscription includes a one-time payment of $30; with this option, customers also receive the One Paycheck at a Time eBook (retail value $9.95) free. This subscription package offers the best value as it provides the customer with a 50 percent savings on the entire purchase.
Private Labeling Opportunity
One Paycheck at a Time, Inc. and Clearcubed Interactive, Inc. are partnering with financial institutions, associations, and debt relief organizations interested in private labeling www.OnePaycheckataTime.com for their customers. "Companies choosing to license the One Paycheck at a Time application will have a great deal of flexibility with the program, including the ability to brand, customize the user experience, and integrate with legacy systems,. Private labeling of the program may be especially beneficial for lending companies experiencing a high level of loan defaults. Etools can give lenders a value-add service to offer their customers, while decreasing defaults and non-payment of extended credit," said Ms. Griffiths.
For companies looking to add an online budgeting application to their product line, Ms. Griffiths may be contacted to discuss via email at kgriffiths@onepaycheckatatime.com.