Omni Email Campaign Swings Into Success
The Omni Orlando Resort at ChampionsGate is a great destination for meeting and leisure guests alike. Located next to Walt Disney World, this resort offers world-class golf, and acres of natural wetlands. With two Greg Norman-designed golf courses, ChampionsGate has been honorably mentioned in Golf Magazine's "10 Most Distinctive Places to Play."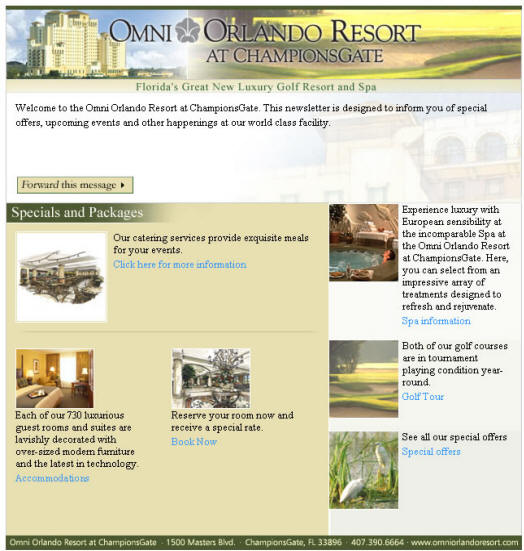 The Omni Orlando Resort at ChampionsGate is not only a premiere vacation/golf destination, it is also ideal for meetings and conventions. Prospective meeting planners who had requested information were the primary targets during the resort's pre-opening sales effort. In early 2003, while the world-class resort was still under construction, Paul Pebley, the property's director of marketing, faced the challenge of introducing potential guests and meeting planners to the property without the benefit of photography. "We needed an innovative and quick way to promote our destination to meeting planners and tradeshow organizers and to demonstrate why we should be their meeting destination of choice," said Pebley. "Renderings, while beautiful, were just not enough to break through the clutter and convey the uniqueness of our resort."
Therefore, a primary goal of implementing graphically-enhanced email as a means of communicating with prospective customers and meeting planners was to provide instant visual identification of the resort, its superior key attributes, and its unique experience for guests.
In partnership with .Com Marketing, a Central Florida-based full service interactive marketing and advertising agency, Omni Orlando Resort at ChampionsGate found a solution: an email stationery package that would serve as a virtual brochure-like visual communication. The stationery would also provide the sales and marketing team at the Omni Orlando Resort at ChampionsGate with the means to send prospects and customers more detailed information on the resort via attachments.
An additional benefit of the email was it would enhance the one-on-one relationship-building activities between the Omni sales team and their clients, before and after sales trips, at tradeshows and as a tool in other sales activities.
The Omni Orlando Resort at ChampionsGate email, allowed for each member of the Omni's sales and marketing team to create a custom message and attach files such as pdf's, which were tailored to the particular needs of the meeting planner or guest. For example, an attachment would describe the facilities, golf course, catering menus, and special events. The sales team could also send mass email blasts, which appeared to be personalized messages.
"The email stationery is much more cost effective and quicker than the traditional paper stationery, and allows advanced tracking features, such as open rates, the time the document was received and opened, and even the links that were clicked," said .Com Marketing CEO Hillary Bressler. "The email stationery could also be forwarded to a friend. This type of tracking and forwarding is not available with traditional print postcards sent by mail," she added.
The mail stationery used by Omni experienced measurable results. The emails consistently had an average of 50 percent unique open rates. The project was presented to the HSMAI Adrian Awards as an entry, and in December 2004, it won a Silver award in the custom email stationery category.
About .Com Marketing
Com Marketing is a leading national full service interactive advertising agency. Headquartered in Orlando and serving clients nationwide, .Com Marketing is one of just a few agencies in the Southeast that focus solely on Internet marketing. The agency is ranked among the nation's top 100 interactive agencies, according to the 2001, 2002 and 2003 Ad Age Agency Interactive Agency Report (the only Florida company on the list, and one of four in the Southeast). Founded by President/CEO Hillary Bressler in 1997, the company has marketed more than 300 Web sites for such clients as MP3.com, Nestle Foods (Alpo, Friskies and Mighty Dog brands), SeaWorld, Marriott & Renaissance Offshore Resorts, Marriott Vacation Club International, Tribune Interactive, Universal Orlando Resort and McDonalds. The agency has received numerous awards, including two national Web Marketing Association Awards for Excellence and an eTravel World Award. For more information, call 407/774-4606, or visit www.commarketing.com.