September is WebAward announcement month, so with out further adieu,
WebAwards 2011
<![if !vml]>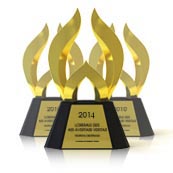 <![endif]>The Web Marketing Association is pleased to announce the winners of its 15th annual WebAward Competition for Web site development. More than 2,000 entries from 45 countries were adjudicated in 96 industry categories during this year's competition. Entries were judged on design, copy writing, innovation, content, interactivity, navigation, and use of technology. A complete list of the winning sites can be found at the WebAward Web site at www.webaward.org.
Best of Show
The 2011 Best of Show WebAward is presented to Organic, Inc. for their exceptional work on U by Kotex: Ban the Bland website. The site was also recognized as Best Consumer Goods Website.
U by Kotex* helped Break the Cycle of period shame by opening an honest conversation. Now, they're giving 14- to 22-year-old young women the opportunity to redesign the boring, white feminine care category. The core of the experience is an interactive design tool that lets girls make over feminine care by creating original product designs. A fresh site design, including a gallery of submissions, and rallying copy inspire girls to join the challenge.
This is the third WebAward Best of Show win for Organic, Inc. In 2009 they were won the award with their work on "Bank of America - Morris on Campus". They also won the very first Best of Show WebAward in 1997 with their work on "Philips Home Theater Web site".
Top Agency
Biggs|Gilmore was named Top Agency at the 2011 WebAward Competition, taking home 28 WebAwards. This is the second time Biggs|Gilmore has won the Top Agency WebAward, the first being in 2007. The Top Agency Award is given to recognize the consistently outstanding development going on at interactive firms. The firm also has been named Top Agency in the Web Marketing Association's Internet Advertising Competition for three straight years (2009, 2010 and 2011). Founded in 1973, Biggs|Gilmore is a digital agency with a core expertise in integration of offline and online marketing strategies. It was recognized in the 2011 WebAwards with Best Food Industry Website, Best Social Network Website, 13 Outstanding Website WebAwards and 12 Standard of Excellence WebAwards.
21 Agencies or companies were also recognized as Outstanding Website Developer for winning six or more WebAwards in 2011. They include (# of AWARDS): Sabre Hospitality Solutions (21), Risdall Marketing Group (20), Extractable (19), TRAVELCLICK (15), VML (15), CareTech Solutions (14), TMP Worldwide (11), Critical Mass (8), AGENDA Ltd. (7), Aristotle (7), BGT Partners (7), Blenderbox Inc (7), Forum One Communications (7), Hubbard One (7), WSI (7), IQ (6), JHI Health (6), LBi (6), Methodologie (6), usdm.net(R) (6), and Walt Disney Parks & Resorts Online (6)
Our Judges
It is the role of our distinguished judging panel to visit each and every entry and score it multiple times. These judges are not selected because they are big name celebrities that know nothing of web development like some other award shows, rather they are working professionals that are creating sites, managing agencies or marketing departments and keeping out on the latest industry trends by doing. These professionals give up their valuable time to give back to the online marketing community that we all are a part of and we thank them for it.
Our Sponsors
Another group that is instrumental in making the Web Marketing Association's annual awards programs a success are our sponsors. The 2011 WebAwards are sponsored by the following leading organizations: ExactTarget, Burst Media, PR Newswire, BGT Partners, ad:tech conferences, Internet World UK, Search Engine Strategies, EContent Magazine, We Build Pages, MicroBurst, Webmaster Radio and Website Magazine.
While we wish we could grant every worthy site an award, we can not. We do thank everyone who participated and congratulate our 2011 winners for a job well done.
WMA Mobile
We would like to thank the team at BGT Partners in Miami for creating a great set of mobile websites for the Web Marketing Association. Next time you're on your phone and want to check us out, go to m.webmarketingassociation.org or m.webaward.org or m.iacaward.org.
Ad:tech Full Conference Pass Drawing
Once again our friends at ad:tech Conferences have given us a free full conference pass to ad:tech NYC November 3-4 at the Javats Convention Center. If you are interested in attending without having to pay, send your name, title, company, and address to adtech@webaward.org. One winner will be randomly selected October 15th and will attend this outstanding conference as our guest.
Be Bold, Be Bald!
In 2007, cancer took the life of our friend and Boston-based agency Small Army co-founder, Mike Connell. Today, we remember and honor him through Small Army for a Cause and its annual cancer fundraising event, Be Bold, Be Bald!
This coming October 21 is our third annual Be Bold, Be Bald! event, where thousands of people across the country will wear a bald cap to honor loved ones who have bravely battled cancer, and raise money to help fight back. We at the Web Marketing Association will proudly wear our bald caps to honor Mike and our many other friends and family who have battled the disease.
Today, we ask that you please join us by doing any or all of the following: Get a group to go bald on 10/21 to honor those who have fought the disease and raise money to help fight back. You can also make a generous donation to the cause (Small Army for a Cause is a 501c3 organization). And finally help spread the word about Be Bold, Be Bald! by sharing our site with your online and offline communities, reaching out to any media connections to tell our story, or running any of our advertising materials on your website or other media channels.
Bill Rice
President
Web Marketing Association
WebAward Competition - The 2011 WebAward winners are now available. Congratulations to all of our winners.
Interactive Advertising Competition (IAC) Awards - -- The countdown for the 2012 IAC Awards has begun. Entries will be accepted starting November 1, 2011.
Stay in touch with the Web Marketing Association:
White list our new email address, or add it to your address: news@webmarketingassociation.org and our mailing IP address 71.16.87.242
Follow to our blog
Subscribe to our RSS feed


Womenkind Creates Breakthrough Campaign for Women & Co. - Here is a case study on an award-winning financial website for women in search of honest and insightful information to guide their financial choices.
AffCon 2011 - Miami: The Affiliate Marketing Convention
October 13-14 2011
The Fairmont Turnberry Isle, Miami, Florida
AffCon brings the affiliate marketing community together - providing the platform for change, sustainability and growth for our industry. By allowing qualified affiliates to attend 2 days of intensive, complimentary education, we have the pulse of the industry at one of the biggest collaborations of the year.
Be a part of AffCon 2011 where you will: Maximize your skills for optimal growth, Find better commission deals and offers, Explore new products to add to your bottom-line, Learn new techniques from both new affiliates and super affiliates and Expand your network with peers, sponsors and industry leaders.
ad:tech New York
November 8-10, 2011
Javits Convention Center, NYC
Join us at adtech, the world's largest digital marketing event, and learn everything you ever wanted to know about digital marketing in one collaborative setting. Through speaking sessions and hands-on tutorials, leading industry experts will show you how to market more effectively using social media, email, mobile, search, video and more. Keynote speakers include David Fischer, VP of Advertising and Global Operations at Facebook and Wendy Clark, Sr. VP of Integrated Marketing Communications & Capabilities at The Coca-Cola Company. Register now with code WMANY and save $200 off the current online price! Visit ad-tech.com/ny for the latest details on schedule, speakers, exhibitors and events.
SES CHICAGO CONFERENCE & EXPO
November 14-18, 2011
Hyatt Regency Chicago
Marketers and search engine optimization professionals attend SES Chicago each year to network and learn about topics such as PPC management, keyword research, SEO, social media, local, mobile, link building, duplicate content, multiple site issues, video optimization, site optimization, usability and more.
The conference offers 70+ sessions, intensive training workshops, and an expo floor packed with companies that can help you grow your business. While you're at it, network with peers and leading industry vendors. Programmed by the SES advisory board, you can be assured - SES content really is king!
WEB MARKETING ASSOCIATION MEMBERS: SAVE 20% when you enter 20WMA. Register today.
Here are additional resources for Internet Marketing Professionals
WebMaster Radio
WebmasterRadio.fm is on 24 hours a day, 7 days a week online radio station dedicated to helping online marketing professionals better understand the dynamic online marketplace. Shows can be listened to live or from the extensive archive of previously recorded programming.
WebMaster Radio is advertising supported radio. Be sure to check out the advertising opportunities on Webmaster Radio.
Website Magazine
If you're not already getting Website Magazine, you should be. There's no charge within the US and available for a small fee outside the U.S.(covers the extra shipping). It has great in depth articles that are helpful and well written. Use this link to sign up to receive the next issue.