Looks like we are just about ready to begin judging another outstanding WebAward field. This will be our last newsletter until September as we take the summer off to focus on the WebAward judgung and winners announcement and the judges have been discussing some interesting interesting ideas that might make some headlines. Stay tuned in September for more information.
WebAwards 2011
<![if !vml]>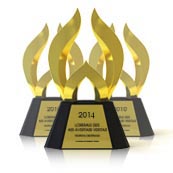 <![endif]>The 2011 WebAward Call for Entries has been extended until June 17, 2011. This is your final opportunity to enter and get recognized for your best work. This is also the last time you will be able to edit existing entries before they are sent to the judges..
Entering the WebAwards is easy. Simply create a nominator account or log into an existing account from past years. This password protected area is the communication center where you can enter multiple sites, edit the information and receive updates, results and feedback on your entries throughout the competition.
To review or edit your existing entries information, simply click on the title of your entry and follow the instructions. You will get another opportunity to edit the information when the winners are announced in September.
All month long our WMA Facebook Page has been providing hints and tips to improve your chances of winning a WebAward. So check it out and you may learn something to help you.
Bill Rice
President
Web Marketing Association
p.s. Be sure to check out our new study - Attributes of Award Winning Websites - A study of the 2010 WebAward winners and what made them successful to gain valuable insights for your web development efforts.
WebAward Competition - The 2011 WebAward Call for Entries has been extended until June 17, 2011. This is your final opportunity to enter and get recognized for your best work.
Interactive Advertising Competition (IAC) Awards - -- The countdown for the 2012 IAC Awards has begun. Entries will be accepted starting November 1, 2011.
Stay in touch with the Web Marketing Association:
White list our new email address, or add it to your address: news@webmarketingassociation.org and our mailing IP address 71.16.87.242
Follow to our blog
Subscribe to our RSS feed


SES TORONTO CONFERENCE & EXPO
June 13-15, 2011
Hyatt Regency Toronto, Toronto, Canada
SES Toronto opens its doors June 13 and we want to make sure you don't miss out on any of the opportunities this year's show has to offer. Rounding out our keynote lineup for this year, Yellow Pages Group VP of Performance Marketing Tracy Smith, will be sharing his experience in performance marketing. More keynotes are set to be announced, so stay tuned!
As 2010 proved to be yet another year of industry moving changes (launch of Google Instant, Social Signal Algorithmic Inclusion, Bing Yahoo Merger) SES is analyzing the details - letting you know what it means for your business.
Bring an open mind and have quick fingers for your netbook as we equip you with relevant case studies and actionable takeaways. We encourage you as well, to share any suggestions on topics you think to be most compelling or how we can improve your experience with us.
WEB MARKETING ASSOCIATION MEMBERS: SAVE 20% when you enter 20WMA. Register today.
AffCon 2011 - Miami: The Affiliate Marketing Convention
October 13-14 2011
The Fairmont Turnberry Isle, Miami, Florida
AffCon brings the affiliate marketing community together - providing the platform for change, sustainability and growth for our industry. By allowing qualified affiliates to attend 2 days of intensive, complimentary education, we have the pulse of the industry at one of the biggest collaborations of the year.
Be a part of AffCon 2011 where you will: Maximize your skills for optimal growth, Find better commission deals and offers, Explore new products to add to your bottom-line, Learn new techniques from both new affiliates and super affiliates and Expand your network with peers, sponsors and industry leaders.
Here are additional resources for Internet Marketing Professionals
WebMaster Radio
WebmasterRadio.fm is on 24 hours a day, 7 days a week online radio station dedicated to helping online marketing professionals better understand the dynamic online marketplace. Shows can be listened to live or from the extensive archive of previously recorded programming.
WebMaster Radio is advertising supported radio. Be sure to check out the advertising opportunities on Webmaster Radio.
Website Magazine
If you're not already getting Website Magazine, you should be. There's no charge within the US and available for a small fee outside the U.S.(covers the extra shipping). It has great in depth articles that are helpful and well written. Use this link to sign up to receive the next issue.