William Rice
Web Marketing Association

Welcome to another edition of the Web Marketing Association's Interactive Briefing Newsletter.
WebAwards
By now you know that the 14th annual international WebAward competition is under way and the deadline for entry is May 25, 2010. The WebAwards are the standards-defining competition that sets industry benchmarks based on the seven criteria of a successful Web site. It recognizes the individual and team achievements of Web professionals who create and maintain outstanding Web sites.
Entering is easy. Simply create a nominator account or log into an existing account from past years. This password protected area will allow you to enter multiple sites, edit the information up to when the judging begins and receive updates, results and feedback on your entries throughout the competition.
New Trophy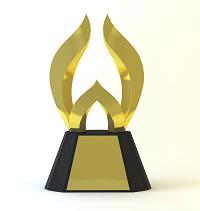 We are pleased to announce an exciting new change to the WebAward program. Starting this year, Best of Show, Top Agency and Best of Industry winners will all receive a new trophy to mark their achievement in website development. The image plaques that we have used for years to recognize the top winners will still be available for purchase.
The new WebAward trophy stands an impressive 10" tall and 6.5" wide and will stand out in anyone's trophy case. It was designed for the Web Marketing Association by the world renowned artists at Society Awards, makers of awards for MTV Video Awards, People's Choice Awards, Country Music Awards and Dancing with the Stars.
Representing sculptural art with our iconic W in a flame motif, our new trophy will be a symbol of achievement for our industry. Crafting of the award combines elements of art and technology as well, using heavy machinery to inject molten zinc at thousands of degrees Fahrenheit into its steel molds, but then finished and polished to mirror brightness by hand. The award is electroplated with 24kt gold and lacquer sealed to preserve its brightness for generations.
Society Awards is the world's leading designer and manufacturer of custom awards and sculpture. Their commitment to quality and innovation drives the top companies in every industry to collaborate on their most intimate projects, and the Web Marketing Association wanted to provide the best for our industry as well. We present to you, our entrants and fans, the 2010 new WebAward.
2010 WebAward Call for Judges
While the vast majority of our judges return each year, there is a constant need for new judges to be added. Prior to the beginning of the judging, we spend several weeks discussing the current state of Web development and how it should be recognized through the WebAwards. Being a WebAward judge is a valuable experience that helps the individual better understand overall Web development and of course looks impressive on a resume or corporate bio.
If you or someone some one in your organization would make a good judge, they can learn more and enter their name for consideration on the WebAward Judges Nomination Form.
If you are a returning WebAward judge, you should have received an from me asking you to activate your account for 2010. If you have not received this email yet, please email me at wrice@webaward.org.
Tips On Winning A WebAward
Want to know how to increase your chances of winning a WebAward? Become a Fan of the WebAward Page on Facebook. Each day a new tip is posted to give you better insight into how to best position your entry to give it the maximum impact with the judges.
Bill Rice
President
Web Marketing Association

P.S. Congratulations to Karen McFee of Mediasmith who won the full-conference pass to the Ypulse Youth Marketing Mashup in San Francisco May 21 & 22 at the Hotel Nikko. See the bottom of this newsletter to find out more about the conference and watch future issues for more chances to receive passes to leading industry conferences.
WebAward Competition - The 2010 WebAward Call for Entries is now underway. The deadline for entry is May 25th, but don't wait - enter today.
Interactive Advertising Competition (IAC) Awards - -- The 2010 IAC Awards winners have been announced. Congratulations to all the winners and special thanks to our esteemed panel of judges. The 2011 IAC Awards will begin accepting entries in November, 2010.
Stay in touch with the Web Marketing Association:
White list our new email address, or add it to your address: news@webmarketingassociation.org and our mailing IP address 71.16.87.242
Follow to our blog
Subscribe to our RSS feed



Become a Fan of the Web Marketing Association on Facebook!
Beltone Discovers the Influencers of Today are the Buyers of Tomorrow - IAC Award Winner Shares Success Story for Discovering their Ideal Audience Online.
Women Depend on the Internet to Spend and to Save - To better understand consumers' use of coupons, Burst Media recently surveyed more than 4,500 women 18 years or older about their current use of the Internet for household purchases and their penchant for web coupons.
Industry conferences are a great way to keep up with changing trends and technology while networking with industry leaders. Here are some of the top industry conferences that the Web Marketing Association supports.
Ypulse Youth Marketing Mashup
May 24-25
Hotel Nikko San Francisco
The 2010 Ypulse Youth Marketing Mashup is where top brand, corporate and social marketers, media professionals, educators and non-profit organizations gather to share best practices, research and latest strategies on marketing to youth with technology.
Use the code "WMA" can be used for a 10% discount for this event.
Social Media Success Summit 2010
May 4- May 25
Online at Social Media Success Website
Social Media Success Summit 2010 is the web's largest live online conference that will empower you to use social media to gain more exposure, better engage customers and grow your business. The world's leading social media gurus will show you how. Join 24 experts, including Guy Kawasaki (author, Art of the Start), Chris Brogan (author, Social Media 101), Darren Rowse (author, ProBlogger), Mari Smith (author, Facebook Marketing), Greg Jarboe (author, YouTube and Video Marketing), Kim Dushinski (author, Mobile Marketing Handbook); experts from Best Buy, Home Depot, Whole Foods, Foursquare and Groupon; Steve Rubel (Edelman), Ann Handley (MarketingProfs), Brian Clark (Copyblogger), Jason Falls (Social Media Explorer), Jay Baer (Convince & Convert) and Ramon De Leon (Chicago Domino's Pizza)-just to mention a few!
This year's focus is to empower you to build social media marketing plans, track your social media results and learn from other successful businesses. You'll also discover how to use Facebook, Twitter, LinkedIn, YouTube, Foursquare and Groupon to attract high-caliber customers and grow your business during this economic slump.
Spread out over the month of May, sessions can be watched live or watch a recorded version when convenient for you. Transcripts from each session are also included in the admission price.
You can get 50% off if you act now and attendance is limited. Go to the Social Media Success Summit Website for complete details and to sign up to attend.
Online Marketing Summit 2010 22-City Tour
May 20- Aug 20
Major cities across the USA
Join thousands of your marketing peers at the OMS 2010 22-City Tour, the only conference tour solely dedicated to online marketing education - in an environment free from exhibit booths and sales pitches. Covering the topics of Social Media, Search, Email, Demand Generation, Analytics, Usability and Integrated Marketing, the OMS 2010 Tour offers attendees the opportunity to learn actionable best practices, strategies and tactics from leading authors, academics, brand marketers and online pioneers.
Upcoming Dates: May 20 Phoenix, AZ - Jun 7 Cleveland, OH - Jun 9 Toronto, ON - Jun 14 Seattle, WA - Jun 16 Portland, OR - Jun 18 San Jose, CA - Jun 21 Los Angeles, CA - Jun 23 Denver, CO - Jun 25 Minneapolis, MN - Jun 28 Milwaukee, WI - Jun 30 Chicago, IL - Jul 7 Boston, MA - July 8 Philadelphia, PA - Jul 9 New York, NY - Jul 12 Washington, DC - Jul 14 Atlanta, GA - Jul 16 Charlotte, NC - Jul 19 Dallas, TX - Jul 21 Austin, TX - Jul 23 Houston, TX - Aug 5 Miami, FL - Aug 20 San Francisco, CA
Search Engine Strategies Toronto Conference & Expo
June 9-11
Hyatt Regency Toronto
>From social media to local search to video SEO, Search Engine Strategies Toronto puts you in front of the experts who will help you sort which technologies and channels will take you to the next level and which are just hype. Deep dive into emerging trends which will shape 2010 and beyond.
Search can put you in control with more measurable results, targeted reach, and constant visibility than traditional marketing. So start making decisions based on the facts and learn how to increase conversions with consistent returns.
Register by April 2 and receive up to $400 off on a platinum pass. Enter 20WMA to receive an additional 20% off the current rate.
AffCon2010 - Denver
June 21-23
Colorado Convention Center, Denver
AffCon2010 bases its conference and tradeshow series on the idea that actionable information, business building and networking opportunities should be freely available to everyone in the affiliate marketing industry, especially to working affiliate marketers. Featuring line-up of thought leaders in the affiliate and search engine marketing sectors, AffCon2010 - Denver is a unique opportunity to meet and share ideas with the brightest business people in the affiliate marketing industry. AffCon2010 is the only event in the affiliate marketing industry which gives affiliate marketers free access to the movers and shakers in the sector.
Here are some offers to help you be a better online marketing professional.
WebMaster Radio
WebmasterRadio.fm is on 24 hours a day, 7 days a week online radio station dedicated to helping online marketing professionals better understand the dynamic online marketplace. Shows can be listened to live or from the extensive archive of previously recorded programming.
WebMaster Radio is advertising supported radio. Here is the radio spot for the 2010 WebAwards. Be sure to check out the advertising opportunities on Webmaster Radio.
Website Magazine

If you're not already getting Website Magazine, you should be. There's no charge within the US and available for a small fee outside the U.S.(covers the extra shipping). It has great in depth articles that are helpful and well written. Use this link to sign up to receive the next issue.