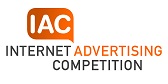 The 14th annual Internet Advertising Competition (IAC) Awards deadline is almost here. There is only a few weeks left to submit entries.
The IAC Awards are the first and only industry-based advertising award competition dedicated exclusively to online advertising. This international award program will evaluate all forms of online advertising, including email, page-based ads, online newsletters, mobile apps, Websites, video and social media in 86 industry categories. The Competition Web site is located at
www.iacaward.org
and the deadline for entry is January 29, 2016.
Awards will be presented within each of the industry categories and advertising formats including:
Best Social Media Campaign
Best Online ad (including banner, pop-up or interstitial)
Best Rich media online ad
Best Email message
Best Online newsletter
Best Website (including best landing pages and best microsites)
Best Online video
Best Mobile applications
Best Integrated ad campaign
Best of show award for each format will be selected from among the industry winners.
Interactive agencies that win multiple awards will also be in the running for Top Agency Award. Each entrant will be awarded points based on the level of award for each award received. A Best of Show will be worth 5 points, Best of Industry 3 points and each Outstanding award 1 point. The agency with the most points will be awarded the Top Agency Award.
In an effort to recognize those organizations that demonstrate exceptional development skills across multiple entries, agencies that win more the 6 awards will also be recognized with an Outstanding Advertising Developer award from the Web Marketing Association. In 2015, nine agencies won this honor.
Ordering Awards from Past Programs
Ordering additional awards is a great way to recognize clients and individual team members. It also is a constant reminder of your award winning work. As an individual who worked on an award winning project, it is something that you can use to show your peers your achievement.
You can order additional awards personalized for your specific needs for any of the WMA award programs at
http://www.webaward.org/order.asp
Bill Rice
President
Web Marketing Association