AS 2014 comes to a close, hereís whatís happening at the Web Marketing Association:



The Web Marketing Association is pleased to announce the winners its third annual international MobileWebAward competition. This award program recognizes the individual and team achievements of Web professionals all over the world who create and maintain the best mobile Websites and the best mobile applications. The complete list of winners can be found at www.mobile-webaward.org.
The
MobileWebAwards
were judged on seven criteria seen as requirements for a success mobile website or mobile app. They include Creativity, Impact, Design, Content, Interactivity, Ease of use and Use of the medium. Each mobile website or mobile app entry is judged against other entries of the same format in its industry category and then against an overall standard of excellence.
This yearís top awards include:
Noble Studios won Best of Show Mobile Website
for Queens University of Charlotte, which also was recognized as Best University Mobile Website. Queens turned to Noble Studios to capture the feeling of being at the University virtually. Noble designed and developed an interactive campus tour with customizable components so prospective students could envision their college experience. They can select their area(s) of study and interest. Students are then given an interactive grid of results based on their answers.
Spark won Best of Show Mobile Application
for Martin Guitar Tuner, which also was awarded Best Music Mobile Application. In addition to the guitar tuner, there is a design-your-own custom guitar component of the app, where the user can pick different body styles, wood and decorations and then share the image on social media.
Klick Health was named Top Interactive Agency
for the 2014 MobileWebAwards competition. They received 9 awards, including: Best Publishing Mobile Website, Best Game Site Mobile Application, Best Pharmaceuticals Mobile Application, Best Biotechnology Mobile Website, Best Technology Mobile Website, Best Employment Mobile Website, Best Intranet Mobile Website, Best Marketing Mobile Website and Best Blog Mobile Website
Two firms were named an Outstanding Mobile Interactive Developer this year. They are RED Interactive Agency (6 awards) and Risdall Public Relations (5 awards).
A complete list of winners can be found on the
award programís Website
.
We congratulate all of our winners and thank everyone who participated in this year's award program, with special thanks going out to our esteemed panel of judges.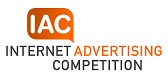 The Web Marketing Association announces the Call for Entries for the 13th annual Internet Advertising Competition (IAC) Awards. The IAC Awards are the first and only industry-based advertising award competition dedicated exclusively to online advertising.
This international award program will evaluate all forms of online advertising, including email, page-based ads, online newsletters, mobile apps, Websites, video and social media in 86 industry categories. The Competition Web site is located at
www.iacaward.org
and the deadline for entry is January 30, 2015.
Entering is easy. Simply
create a Nominator Account
or
log in to an existing Nominator Account
. Upload your creative and pick you industry and format. We'll send our judges to evaluate it based on creativity, innovation, impact, design, copywriting, and use of the medium. If you have the highest average score in your industry, you're a winner!
Interactive agencies that win multiple awards will also be in the running for Top Agency Award. In an effort to recognize those organizations that demonstrate exceptional development skills across multiple entries, agencies that win more the 6 awards will also be recognized with an Outstanding Advertising Developer award from the Web Marketing Association. In 2014, 13 agencies won this honor.
The 2015 Internet Advertising Competition Awards are sponsored by Burst Media, Small Army, Vertical Response, EContent Magazine, ad:tech conferences, Clickz Live, Webmaster Radio and Website Magazine.