Each item can be personalized to recognize a company or individual who contributed to your award winning entry. Find your entry number in the database and then enter the personalized information.

Please Note: Only the first line can be personalized. The name of the entry can not be changed.

Please check your entry number as an incorrect number will result in the wrong entry being included on your ordered award. It is the responsibility of the user to insure the correct entry number is used.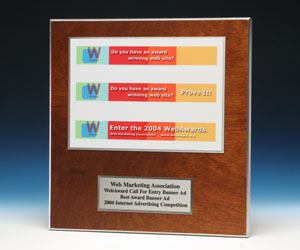 2005 IAC Image Plaque

IAC05IP


Each plaque features a full color image of your winning entry along with a description of your achievement. Each plaque is hand stained, with a non glare finish that enhances the overall appearance. These plaques measure 13x13 1/2" and are a great way to recognize the individuals involved in the development and creation of your entry. You can have any person, group or company recognized on the first line of the plate.
To find your Award Entry Number, click here to search our database. Then type your Award Entry Number into the field below.