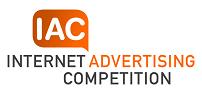 This custom made award uses high quality clear and black crystal, with a custom geometric hand cut shape, and the pieces of black and clear crystal seamlessly fused and polished together by hand. In between the clear and black, the IAC logo is etched on the bottom of the clear piece, creating a beautiful unique design. Personalization is added with a steel plate on the base. It will be an impressive addition to any display case and will make an extraordinary client gift.
click on the award photo to see a larger image.
To find your Award Number, click here to search our database. Then type your Award Number into the field below.