Launch and Listen
-- The Formula We Used to Develop and Grow Freewebs
Freewebs began with the idea of enabling anyone with an internet connection to establish a web presence. Back then, making a website required either knowledge of HTML or commercial software. Our initial goal was to make website building as easy as using e-mail.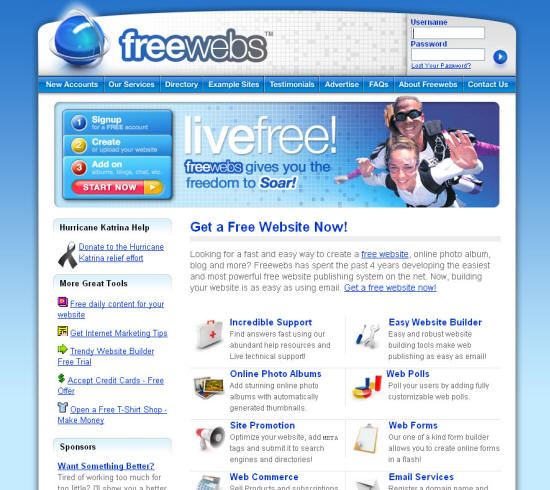 Rather than spend a great deal of time (and money) researching and designing what we thought would be a good site builder, we launched with an incredibly simple version and then we waited for feedback. Our earliest users were very critical about the system and we took their comments and suggestions and went back to our keyboards and began programming. One of the early suggestions that shaped our product had to do with layout pages. We launched with templates that had a fixed space for two paragraphs per page. Our users were clear that they wanted more than that, so we revamped the product to allow users to create as many paragraphs as they needed… and then after additional feedback, we enabled users to order their paragraphs by moving them up and down on the page.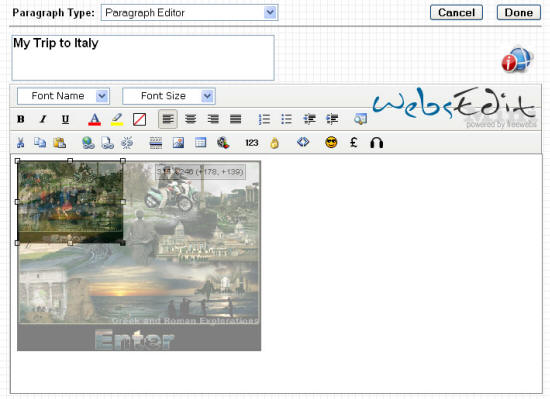 Without planning for it, we had created a one-of-a-kind product that simplified the website creation and editing process by separating a site's content into manageable pieces we called paragraphs. The next step was building more and more tools into the paragraph editor. Users wanted to insert links, pictures and video into their paragraphs and we responded. As they say, the rest is history. Within a few years, Freewebs grew to nearly 10 million users, with almost no advertising.
The Freewebs cooperative design strategy remains a central theme in our efforts to bring free websites to the people. But it does have its challenges. It's impossible to please everyone and it's imperative to determine a filtering process when it comes to choosing what input to listen to. In addition, as our company grew, the management and development staff had less and less time to communicate one-on-one with users. To maintain the flow of communication between our users and project managers, we hand-picked a support staff who would not only respond to technical support inquiries, but would keep a pulse on what our users wanted. Primarily through live online chat, our support team carefully listens to our users, and determines which issues are the most important for the developers to tackle. In this way, our support team acts like an incubator for our next great ideas. The founders themselves still periodically get on the chat line, incognito, to hear directly from the users.
The great benefit of continuing to use this "Launch and Listen" process as we grow is the significant increase in user feedback. With such large numbers, the voices of our users blend into a nice harmony. Discord or aberrations in that harmony become much more easily detectable and quickly alert us to what needs to be tweaked, modified, or added.
How do we sift through all the comments? It's not easy and we can't implement every new feature that is proposed (if we did, Freewebs would be practically unusable). Besides using intuition and good judgment, spreadsheets are a great way to organize comments into categories and then locate which categories and suggestions are appearing with the highest frequency. To automate the process, our online suggestion form sends the data directly to the spreadsheet, so it's always ready to be analyzed. Interestingly enough, that automation process was a suggestion from our users and we now offer "data saving" (which saves webform submission data to a CSV file) as a service to our users as well! Beyond looking for those great revolutionary ideas (like data saving), we also pay more attention to suggestions that are often repeated.
Our newly launched blog service was driven from a spate of user feedback. This year, we began receiving an increasing number of messages in our online suggestions box asking for blogging and discussion forum capabilities. Among them was the following comment:
"I've been wanting Freewebs to offer a killer blog system. It doesn't have to be too fancy or anything, just offer a blog with comment and archiving features and you would kill the Blogspots, Tripods, etc. I'm praying for BLOG SUPPORT!!!! You guys rock, keep up the great work!"
In just one comment we learned that not only did our users really want blogs, but that while commenting and archiving were key, they didn't need something super sophisticated. As a result, we developed a blog that acts just like any other page on a user's site, maintaining the same look and feel of their site template. To post to their blogs, users use the exact same WYSIWYG editor that they use to create and edit paragraphs. Plugging in our pre-existing technology supercharged our blog service by instantly allowing our users to add pictures, audio, and video to their blog (blog services are often limited in this regard). To accommodate the users who wanted forums, we decided to implement threaded commenting as an option, so that the blog could act as a hybrid between a blog and a discussion forum.
Having a successful design strategy and a platform of millions is a powerful combination that allows us to produce and launch new products and features in a relatively short period of time with incredibly high adoption rates. In the fast- paced internet publishing world, that makes all the difference. And it has enabled us to continue working towards our goals of providing free websites for the people.
Haroon Mokhtarzada
CEO and co-founder of Freewebs.com